Fine dining
A beautiful plate of tasty, gourmet food, elegant surroundings in pretty gardens, generous and attentive service...
Here, we practise a philosophy of beautiful dining and a warm welcome.
Head Chef Didier Chapeau, an insatiable fan of produce from our terroir, creates magic in the kitchen but also celebrates his unique brand of hospitality, enhancing local flavours and produce.
For breakfast or dinner, our Head Chef likes to combine tradition and newness with the greatest respect for produce and French gastronomy. Perpetuating the culinary philosophy of the Ricordeau family, Didier Chapeau celebrates Loué poultry, incorporating in his dishes spices from around the world and most importantly, inventing dishes every day to delight your taste buds.
Stop for a meal at Hotel Ricordeau and you will fall in love, depending on the season with roasted blue lobster with Tonka bean service with sweet potato with Madagascan vanilla, fillet of Sarthe beef with a liquorice jus or, why not, enjoy the emblematic free-range yellow Loué chicken, simply roasted in the oven and carved at your table.
In summer, the Ricordeau restaurant opens its doors onto the shaded patio overlooking the garden. In winter, the surroundings are cosier with the large stone fireplace in the dining room, enveloping the space in a warm, intimate atmosphere.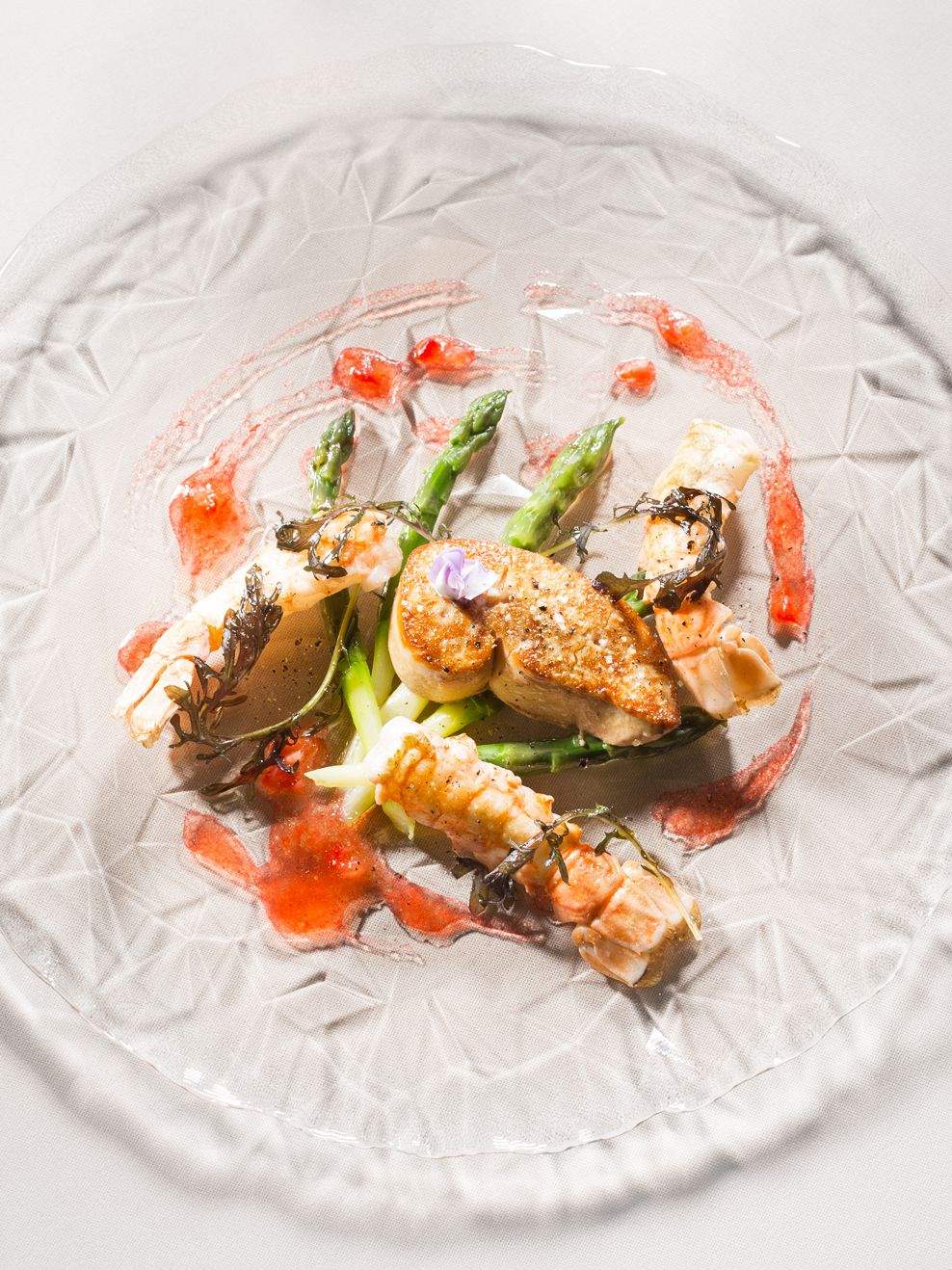 Young gourmets
Our Head Chef believes that fine dining is not just for adults and that the taste buds of our youngest diners should be encouraged, so we offer children the opportunity to eat like the adults. This menu, called "Curious Taste Buds" has the same dishes as the adult menu, in half-portions and at half-price. 
And for a full immersion into the world of cooking, Head Chef offers budding chefs the chance to tour the kitchens and even finish preparing their dessert themselves. The experience ends with a signed chef's hat for the children.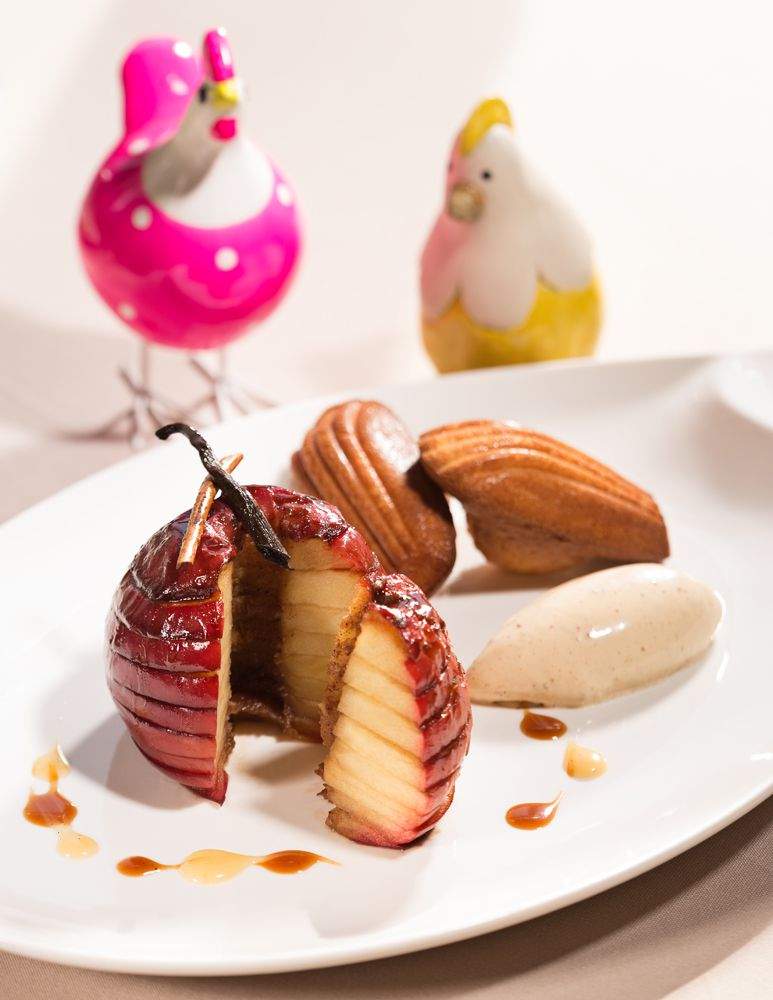 Practical information
The restaurant is open for lunch and dinner from Wednesday lunch to Sunday lunch.
For information and bookings: +33 2 43 88 40 03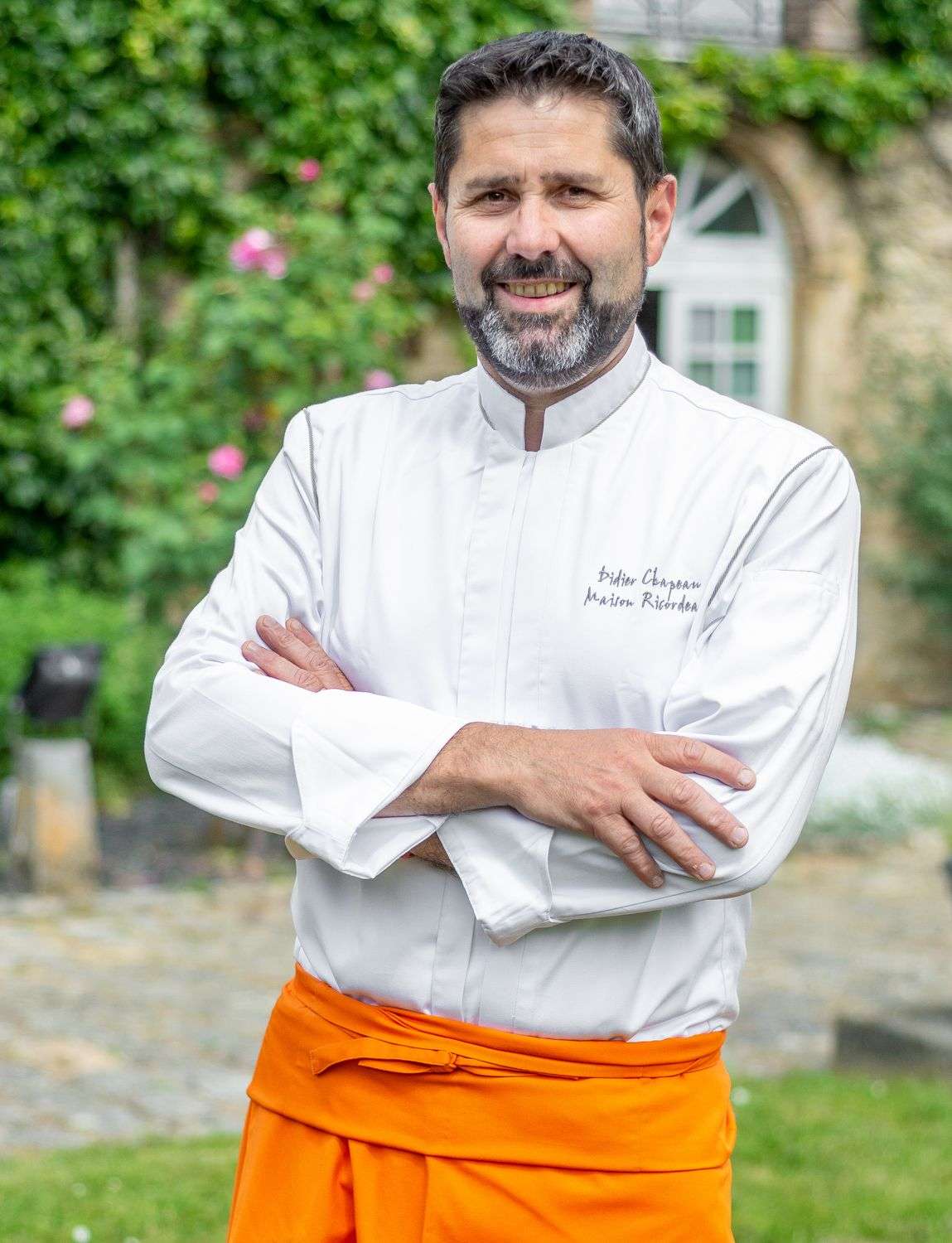 Didier Chapeau grew up in Sarthe. After working with famous head chefs, he returned to his native land to pursue his passion. At 15 he began his studies in Le Mans and graduated with his high-school diploma from Lycée Hélène Boucher in 1993. During his training, he worked every summer in the 4-star La Bérangère Hotel Restaurant (38), 1 Michelin star, as a young commis then Chef de partie. He worked with Jean-Marc Molveaux at Les Deux Alpes and joined his team once again when he took over L'Orangerie du Château in Blois.
Didier Chapeau worked with Molveaux for 7 years and helped the Head Chef obtain his first Michelin star. At his side he learnt rigour and expertise and for Didier, this experience confirmed that cooking was his vocation. Looking to return to Sarthe, in 2001 he joined the legendary Ricordeau Restaurant, a place he used to admire as a child. He naturally took over the kitchen at the end of 2007.
Every day in this huge kitchen with its marble worktops and high range cooker, he leads his brigade with talent and skill. His kitchen faithfully respects the region's products and pays tribute to its riches. This is how he prepares his menu, following the seasons. In his dishes, tradition and innovation combine and compliment each other, to the delight of our increasingly loyal guests.